OLD NEWS:
(31.12. 2014)
URBAN DOGS - new single "Rebellion Song" b/w "One Foot In the Grave" - coming out on Time and Matter. See here:
(26 Nov. 2014)
Knox's 1983 solo album "Plutonium Express" - coming out on USA label Cleopatra Records, probably early next year. Details when they come in.
(9 Nov. 2014)
Great new cover version of "BABY BABY' coming out 20 Nov. by LA band Lady Low. You can find it here: http://nbhap.com/music/news/exclusive/lady-low-baby-baby/
(24 Aug. 2014)


Knox has paintings at the BERMONDSEY JOYRIDERS ART SHOW. (See flyer above. for details.)
(23 July 2014)
Interview with Knox talking about The Vibrators in (now last month's) Record Collector magazine, (it has Kate Bush on the cover), and online now too: http://recordcollectormag.com/articles/hard-knox-life
(22 July 2014)
New Urban Dogs' single - Knox and Charlie recorded a single with Matthew Best, original Urban Dogs' drummer. It was done 9th and 10th July at Pat Collier's studio. (Pat was the original Vibrators' bass player.) News of the single's release will be here as soon as we have any.
(4 June 2014)
Knox and Charlie Harper began working on songs for a new Urban Dogs' single, hopefully to be released later this year. It will be recorded at Pat Collier's studio with hopefully Turkey (Matthew Best), the Urban Dogs original drummer, on drums.
Knox had 10 paintings in this punk art show in Augsburg, Germany, (3-12 Oct 2013) - see poster below: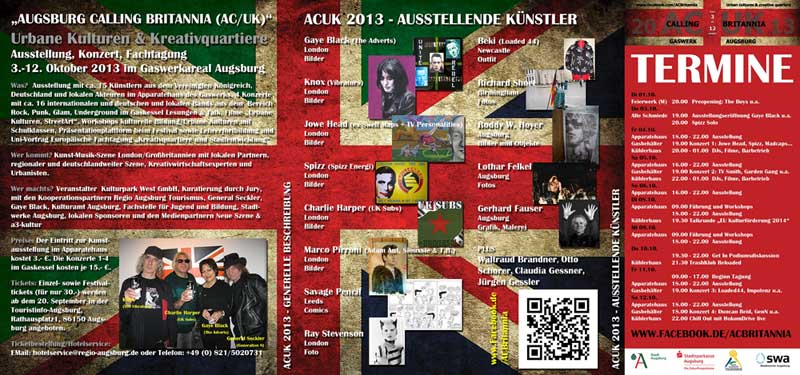 For enlargements of each section of poster click here, here and here!

Knox's 1983 solo album PLUTONIUM EXPRESS is going to be released on CD on New York label O-Rama. More news about this soon.
Check Knox out on the Vive Le Rock website and in Vive Le Rock magazine here.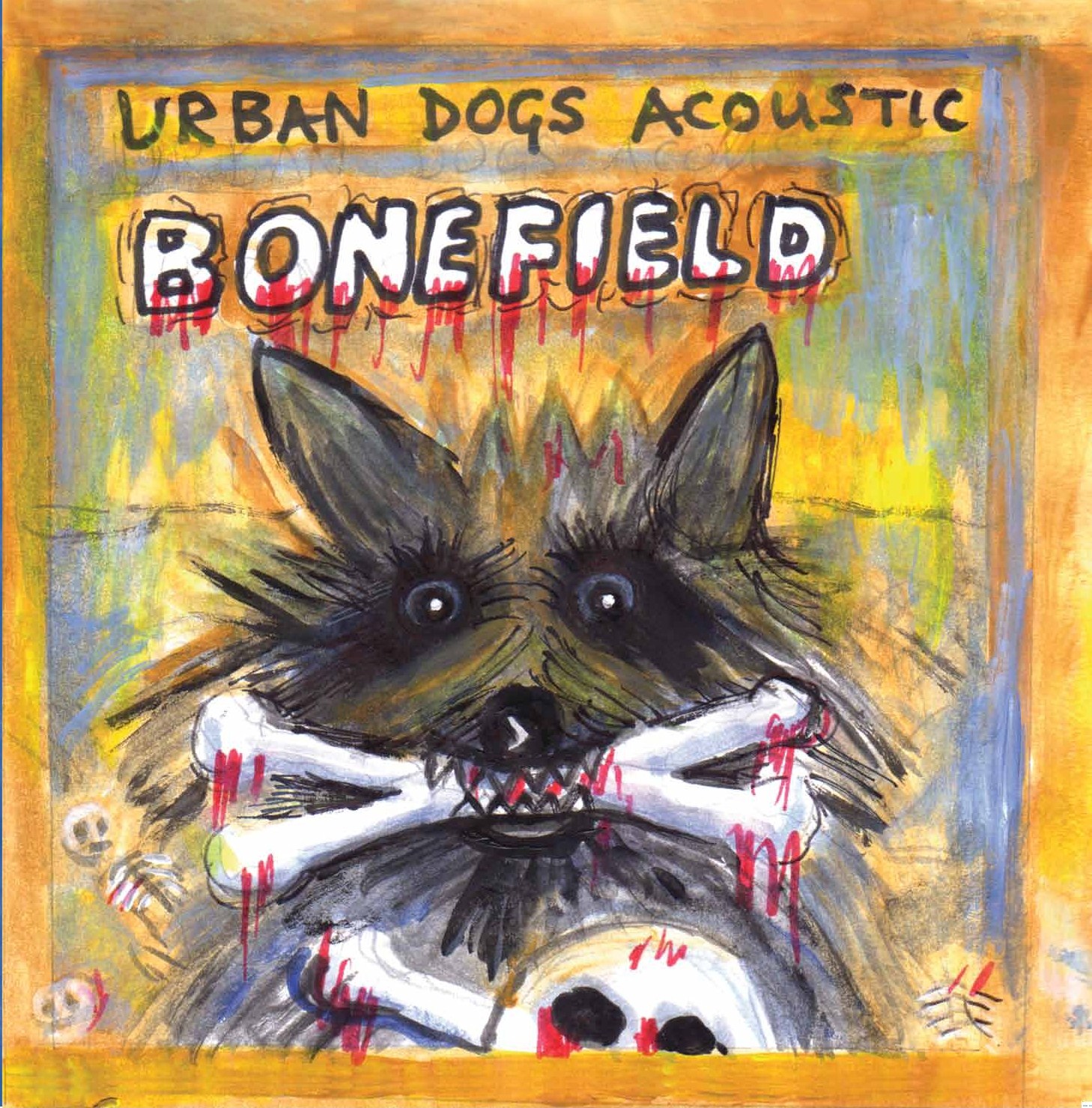 The brilliant acoustic album by the Urban Dogs (Charlie Harper & Knox) entitled 'Bonefield' was out in August 2012. Available from the Time & Matter website's secure 'bigcartel' webshop at a bargain £8-00 plus postage and packaging. All the info about the release is here. (You can also buy the CD at the UK Subs' merch table at their gigs.)

And here's a really great promo video of Knox's 'war' mix of "Not In My Name" from the album: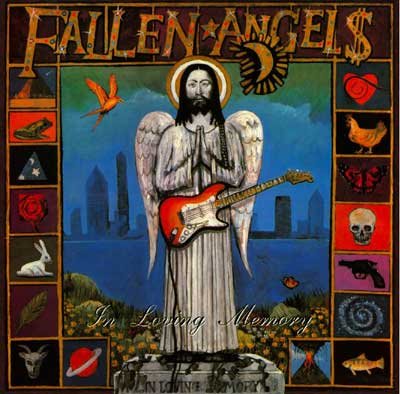 JUNGLE RECORDS RE-RELEASED THE FALLEN ANGELS 2ND AND 3RD STUDIO ALBUMS AS A DOUBLE CD - "In Loving Memory" and "Wheel Of Fortune", both digitally remastered from original studio mixdown tapes, plus additional tracks, B-sides, etc., plus the long and short versions of The Troops "Troops Of Tomorrow", the long version runs to nearly 21 minutes! Great songs here. Also Andy McCoy and Nasty Suicide playing on some of these songs. You can buy it here.
KNOX RECORDING WITH THE VIBRATORS - Knox was in the studio (5-15 March 2012) recording with The Vibrators. Mainly his songs and they're hoping to get lots of guest singers on this album
KNOX RECORDING WITH THE KNOXVILLE BOYS - Knox recorded with the Knoxville Boys (a cut down line up of the Trailer Trash Orchestra), Fri. 9th March to make an EP.
ART SHOW: - This had Knox's painting of the late Poly Styrene in it, in a special tribute section to her in the exhibition.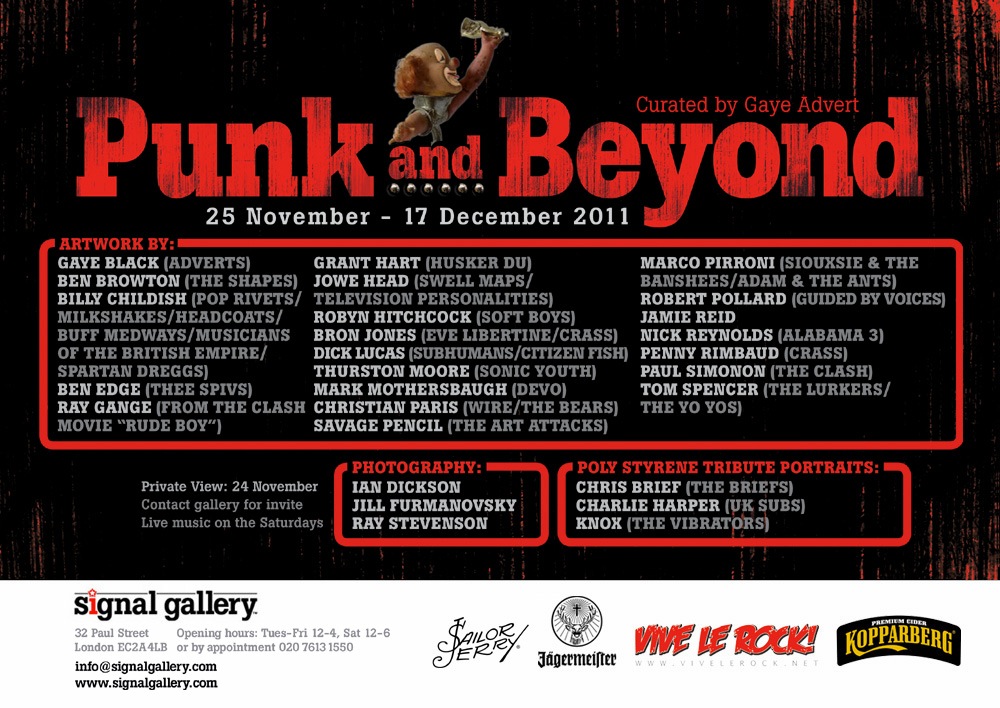 ---
RECORD RELEASE NEWS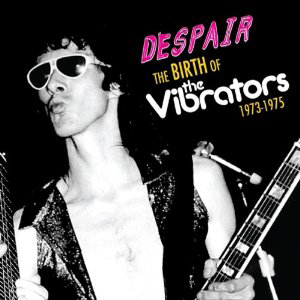 DESPAIR LP - released on 30th August 2011 on US label Cleopatra - This is a 12" vinyl release "The Birth of The Vibrators 1973-1975" and is one of the bands Knox was in before The Vibrators. This band played and recorded Knox's songs which were later part of the basis of the first Vibrators' album. Songs like "Dance To The Music" (retitled "Whips'n'Furs"), "Sweet Sweet Heart", "She's Bringing You Down". In the US the album is available from Cleopatra Records. In England it can be obtained from www.amazon.co.uk and in the rest of Europe from www.amazon.de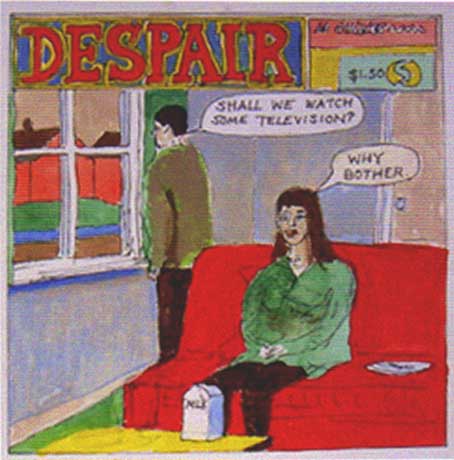 (My memory of the R.Crumb comic cover, where the name of the band came from, suggested by my cousin drummer Richard.)

Here's the list of tracks:
1. "Andy Warhol" (not the David Bowie song!) - later recorded by The Vibrators
2."I Can See It In Your Eyes"
3. "She's Bringing You Down" - later recorded by The Vibrators
4. "Country Girl" - later recorded by The Fallen Angels
5. "Love Is "
6. "Sailors On The Sea" - later recorded by The Fallen Angels
7. "Dance To The Music" - later recorded by The Vibrators, also known as "Whips 'n' Furs"
8. "Sweet Sweet Heart" - later recorded by the Vibrators
9. "Lady Easy Action"

As you might note several songs were on the Vibrators first album!
(DESPAIR was a four piece band which was Knox (guitar/vocals, and the songwriter), originally Jon Reeves on guitar, replaced by Dave Fudger, Knox's cousin, the late Dave Wernham on bass, and Ray Cooper originally on drums, later replaced by Knox's cousin Richard Wernham, later drummer 'Ricky Slaughter' in the Motors.)
PAINTING: More paintings on site - see 'Latest Additions 1' and 'New Paintings', plus a painting of my grandmother added to 'Latest Additions 2'.
RADIO: on Fri. 20th May 2011 Knox sang with the Trailer Trash Orchestra on the Mining For Gold show at 11.30 pm on RESONANCE RADIO (104.4 FM London area). Will find out if it's to be repeated, or to be put up on 'the cloud'.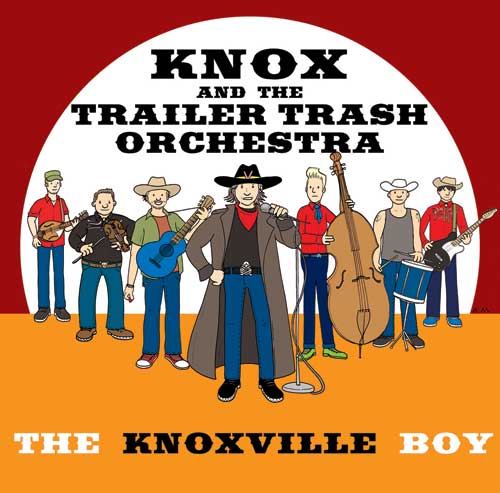 KNOX'S COUNTRY ALBUM OUT!!

Knox and The Trailer Trash Orchestra

"The Knoxville Boy"

Label – Trashville (TRCD003)
The CD is available at both Rough Trade Online shop or direct from trashville.co.uk

Release date February 1, 2011

In 2007 Vibrators front-man Knox was playing an acoustic set in a North London gallery to accompany an exhibition of his artwork. Trailer Trash Orchestra front-man Grae J had gone along with ex-Vibrators bass-man Robbie Tart and after the show they chatted over a beer about art, rock 'n' roll and country music. Grae commented that there was definitely a country lilt to some of the acoustic set that night and Knox admitted to having a bit of a penchant for a country twang, and so a plot was hatched…

Fast-forward 4 years and the result is The Knoxville Boy, a collaboration that sees several Vibrators classics given a stomping country-rockin' overhaul along with a host of never recorded/released material from Knox (one written during the recording) along with a couple of Grae's compositions and a dark rendition of trad-classic The Knoxville Girl. The album verges from full-throttle bar-room stompers to intimate Americana featuring the trademark Trailer Trash Orchestra sound of pedal-steel, fiddle, mandolin, harmonica, double bass, double guitar and drums.

Most of the tracks were recorded by Trailer Trash bass-man Dez Paradise and the remainder at the Bood Corporation barn. Sumptuous artwork is provided by the great Al Maceachern.

The album is available from all major download sites and physically from trashville.co.uk and on-line and in-store from Rough Trade.

Knox and The Trailer Trash Orchestra are available for quotes and interviews by mailing trashville@ntlworld.com
See good review here.
And one from Maverick here:
Knox and the Trailer Trash Orchestra THE KNOXVILLE BOY Trashville Records TRCD003
4 STARS
Refined, extraordinary music by a band oozing style Whilst playing at a North London gallery in 2007, Knox didn't know it at the time but Grae J Wall and friend Robbie Tart (who are both former members of the Vibrators) were there and talked about a possible collaboration after the show. Fast forward four years and you have the product of this conversation; country meets punk sung in such an idyllic British way you can almost sense a Sunday roast being consumed whilst several large whiskeys are supped. After the first few bars of Juice On you know that you are going to love this tune. The mandolin feature prominently which, when you take into consideration Rico Ford's exceptional playing throughout, you are not surprised one bit. There are a number of other songs throughout which impress but if one had to be picked which symbolises this perfectly then this would have to be Loser. Grae's harmonica on this is simply marvellous with the raucous arrangement probably devised over the consumption of a keg of beer. A four year wait until the next album? I hope not. Russell Hill
Also good review in Vive Le Rock Issue 2, has Adam Ant on the cover!
Plus - Knox is doing some gigs with the Trailer Trash Orchestra, see review of recent gig in Hitchin here.

---
KNOX LAST SOLO GIG - 22 June, 2011, in Made In Brasil, Inverness Street, Camden Town.