The Dollz
The band the Vibrators do with Cindy Jackson plus two girl singers.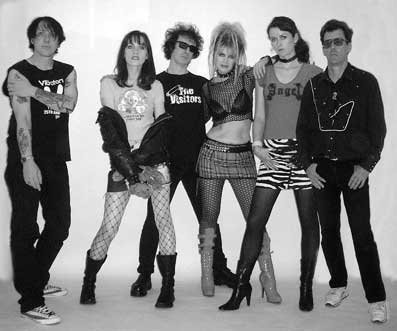 THE DOLLZ - (left to right): Robbie, Julliete, Knox, Cindy, Isabel and Eddie


THE DOLLZ - LATEST NEWS: (21/2/2004)

The Dollz were featured in the film "THE CULT OF CINDY" (a film about Cindy Jackson) which was shown coast to coast in the USA on Tuesday night 17th February 2004.

THE DOLLZ - BIOG: (3/11/2002)
The Dollz began life as an idea of Cindy Jackson's, to put a band together and get back into music. Cindy Jackson is Britain's leading plastic surgery superstar, see her site at: www.cindyjackson.com. She had visited the Borderline in London's West End to see a friend's daughter's band playing there in March 2002, and had seen a poster on the wall for upcoming gigs. One of the bands on the poster was her old friend's the Vibrators, due to play there in a few days time on Saturday 30 March. (The Vibrators were one of the original punk bands from 1976, and currently comprised of Knox - guitar/vocals, Eddie - drums, and Robbie Tart - bass. Cindy ocassionally had Eddie drumming for her in her eighties band Joe Public, which Knox had once guested in.) Cindy duly went to see the Vibrators at the Borderline, and later decided to ask them if they'd be willing to enlist as a backing band for her. Cindy was at that time finishing off her autobiography "Living Doll", and thought that if she went back into music, something she's been heavily involved in up to ten years previously, then that would give the book an additional circular theme.

She then enlisted the help of her "daughter/protegé" Juliette McCrimmon, and Juliette's friend Isabel Scott Plummer, as backing singers. The band had its first rehearsal in a north London rehearsal studio, the result of which was to give the band the necessary confidence and inspiration to continue rehearsing and experimenting with material.

After a few more rehearsals the band decided to record some songs at Pat Collier's (ex-Vibrators' bass player and producer) studio in south London. The band recorded seven songs, two of which were covers, and the rest their own songs. The vocals were mostly done at Robbie Tart and Zeus B. Held's studio in Kilburn, and the tracks mixed back at Pat Collier's. Cindy, because of her work with animal liberation, then had the idea of recording "Bright Eyes", which was all recorded and mixed at Pat Collier's.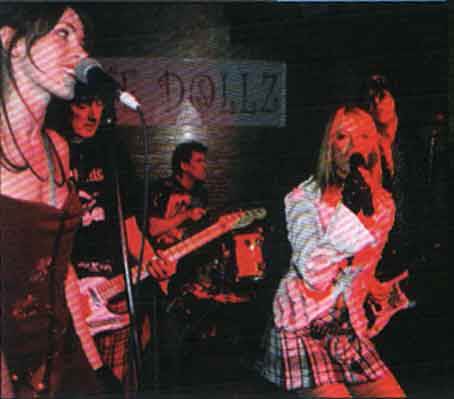 Cindy and The Dollz playing a charity date at the Collection,
27th May 2003 - (Goodlife Magazine)



The band began getting airplay as a result of Cindy's autobiography being published, because Cindy would ask whenever she'd be doing interviews if they'd play a Dollz track. The band also did a PA at Cindy's autobiography book launch party in a club in the Kings Road, London on 23 October 2002. Currently the band are in the process of looking for management and a record company, and will be completing an album and releasing singles soon.


---
MUSIC INDEX
HOME
Copyright 2003, Knox
Design: KOOLcity
Last update: 21 Feb. 2004.