2011 NEWS
15 June 2011

Good news for Fallen Angels' fans! Jungle Records are thinking of releasing the 2nd and 3rd Fallen Angels' albums on a double CD plus maybe a CD of extra stuff. No date yet for this. (The 2nd and 3rd Fallen Angels albums had lots of good songs on them and were sadly overlooked.)

Urban Dogs acoustic album: More work has been completed on this and it's now scheduled for release in Jan/Feb 2012
3 May 2011

Have left The Vibrators and am now starting work on my 'solo' career, plus doing some work with the fabulous Trailer Trash Orchestra, a great country band from St. Albans.
2010 NEWS
31 Oct. 2010
Now in Thessaloniki with The Vibrators. Did a good gig in Athens on Friday and one last night here. Are currently waiting around as we're not flying home until early tomorrow morning. In a few days we're off to Italy.
12 Oct. 2010
Knox still on US tour, down to 39 gigs as lost two, but picked up one, you always lose some but you can pick up some as well. Tour going pretty good, usual late nights and lots of driving but we're sort of used to it. Will be playing with UK Subs in a couple of days time in Houston, so that'll be good to see them.

9 Sept. 2010
Knox is currently on a 40 date tour of the USA, back home 25 Oct. (More info here.)
3 Sept. 2010
Knox played solo, supporting Max Splodge at the Grotto Inn, Weybridge, and had a good time!
16 April 2010
KNOX RESONANCE RADIO PODCAST - you can hear this at: www.mixcloud.com/henrysgigs and www.henrysgigs.com.
10 April 2010
The Vibrators - now back to a three-piece with Knox back on guitar.
DESPAIR ALBUM - tracks for this can now be found on iTunes and Spotify. (Despair was one of the bands Knox was in before The Vibrators, roughly 1973-5). Not all tracks are up there, but here is complete list of tracks which are on US label Cleopatra Records:
1. "Andy Warhol" (not the David Bowie song!) - later recorded by The Vibrators
2."I Can See It In Your Eyes"
3. "She's Bringing You Down" - later recorded by The Vibrators
4. "Country Girl" - later recorded by The Fallen Angels
5. "Losing My Reason"
6. "Dance To The Music" - later recorded by The Vibrators, also known as "Whips 'n' Furs"
7. "Sailors On The Sea" - later recorded by The Fallen Angels
8. "Love Is"
9. "Sweet Sweet Heart" - later recorded by the Vibrators
10. "Lady easy Action"
11. "Claws In My Brain" - later recorded by The Vibrators
12. "Poor Lil' Baby"
13. "Vipers In The Dark" - later recorded by The Fallen Angels
As you might note several songs were on the Vibrators first album!
(DESPAIR - a four piece band which was Knox (guitar/vocals, and the songwriter), originally Jon Reeves on guitar, replaced by Dave Fudger, Knox's cousin, the late Dave Wernham on bass, Ray Cooper originally on drums, later replaced by Knox's cousin Richard Wernham, later drummer in the Motors.)

Urban Dogs acoustic album - very nearly finished, Charlie and Knox recently completed some more work on it.
16 March
The Vibrators: Knox played in Leeds on Sat. 13 March back on guitar for the first time for 22 months. The band played as a three-piece and seemed to be OK. The band will continue to play as a four-piece up to a few gigs before going off to Canada (12 - 30 May) where the band will return to being a three-piece.
3 March
The Vibrators: Recently completed a five-week European tour Vibrators/UK Subs which went very well. Knox was just singing in The Vibrators but is hoping to be back on guitar very soon, he's actually rehearsing up a lot of songs.
Painting: Knox did a bit of painting on the tour above. He has put 8 paintings from the tour up on the site. They're drawings and acrylic on A4 (approx.) size good watercolour paper and are mainly, 'patterny' sort of things, (quite nice colours!).
---
2009 NEWS
(25 Oct.) Back with The Vibrators, just singing, but maybe back on guitar soon.
---
2009 RECORDING NEWS: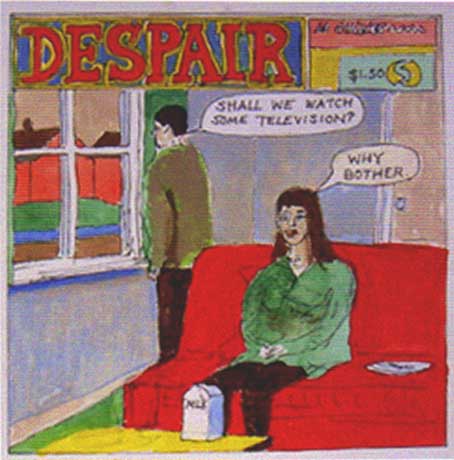 DESPAIR ALBUM - this is a band I was doing before The Vibrators. (A possible cover idea of mine above, my memory of R. Crumb's comic.) A CD of this material plus some of my earlyish Vibrators demo's should be coming out soon on Cleopatra Records (a USA West Coast Label) - more news about this when it comes in. (Songs include Despair (pre-Vibrators) playing "Whips'n'Furs", "Claws In My Brain", "Sweet Sweet Heart", etc.)
URBAN DOGS ACOUSTIC ALBUM - This long awaited album is more than 3/4 done, recorded at Stan's (of Demented Are Go) studio, off Holloway Road, London. When Charlie gets back from Australia/New Zealand, and Japan, we'll have a go at finishing it off. Songs include Urban Dogs' favorites such as "Limo Life", "War Baby", "New Barbarians", and the Subs "Warhead" to mention a few, plus some new songs.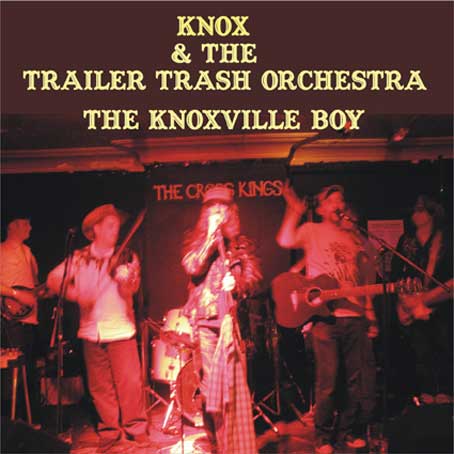 KNOX AND THE TRAILER TRASH ORCHESTRA - an album I recorded with that great country band from St Albans, The Trailer trash Orchestra, will be coming out probably around March next year. Has country versions of "Baby Baby" and "Juice On" plus plenty more other songs. (Above is a cover idea.)