2009 NEWS
(17 Aug. 2009)
My solo gig at Rebellion (Fri. 7 Aug.) went quite well, the highlite being Charlie coming on and doing "Warhead" and "Cocaine" for the encore. Then I did backing vocals for Fire Exit (Sun. 9 Aug.) on "Timewall" and sang "Whips & Furs" with them which I really enjoyed. I also sold some art at the Festival.
(20 July 2009)
I'm playing acoustic at Rebellion (Blackpool), onstage at 3.50pm on Friday 7 August and will be joined on stage by Charlie Harper for a few songs. Hope to see you there! (Also I sang with The Vibrators last Saturday, 18 July, my first time back with the band for about 14 months.)
(20 May 2009)
I'm playing at the 12 Bar Club (Soho) on 25th May for Charlie Harper's 65th birthday party, both on my own and with Charlie (acoustic Urban Dogs). (Think I'm on at 9.00.)
I'm going to try and sell my songs as I have to have a different career other than doing the band, because I don't think I can manage that full-time at the moment. So if anyone has any ideas about this let me know.
DESPAIR - this is a band I was in before The Vibrators, playing a lot of songs later done by The Vibrators and The Fallen Angels. A CD's worth of material is going out to record companies to try and get a deal on it.
KNOX AND THE TRAILER TRASH ORCHESTRA: "THE KNOXVILLE TAPES" - this is a Country album I made with that great band the Trailer Trash Orchestra fom St Albans. We sent the album to quite a lot of record companies with no result so we're going to release it ourselves, no actual date but maybe in a couple of months?
URBAN DOGS ACOUSTIC ALBUM - Charlie and I have been hard at work recording this at Stan's studio. (Stan is guitarist with Demented Are Go.) It will probably be completed by the summer as is around two thirds or more done. Tracks include such classics as "Warhead", "War Baby", "Dragnet", as well as new songs and covers. (I'm not going to give too much away.)
4 May 2009
Knox update: "The band are touring the States at the moment but because I'm not that well I'm still back here in London. The Despair CD (rehearsals tracks of one of the bands I was in before The Vibrators) is ready to be sent round to see if I can get a deal on it. Plus I'm looking at other options if I can't manage to do The Vibrators full-time, like maybe being a circus strongman. Any ideas anyone?"

(13 April 2009)
Knox update: " My heart is sort of OK, but I have a few not so good days every now and again. However I should be back with The Vibrators, probably only singing, by the summer. This means I have plenty of time (you're joking!) to do other things which will include trying to finish off my novel, plus some more songs possibly for other people. I did some photos with the country band (the Trailer Trash Orchestra) the other day so that's moving along. If we don't find a company to release it soon we're going to do it ourselves. The acoustic Urban Dogs album (Charlie Harper and myself) is coming along, recorded at Stan's from Demented Are Go. There's still a way to go with this album. Will also try and pull together the Despair album (the band I was doing before The Vibrators) and send that round to see if I can get a release."
(8 Feb. 2009)
Knox: "As a result of my shoulder operations it was found I had heart failure which is currently being treated, and I should be alright by March? However I will be proceeding cautiously so not doing any heavy tours. (I have two forms of cardiomyopathy plus heart block.) We're still trying to sell the Country album so if anyone has any ideas get in touch. "
2008 NEWS
(3 Oct. 2008)
Knox: "I am in the process of trying to sell the Country album I've been doing with my friends from St Albans, a band in their own right called The Trailer Trash Orchestra, so the band on the album is called Knox and the Trailer Trash Orchestra, and the album is provisionally called "The Knoxville Tapes"."
(2 Sept. 2008)
Knox fell over and hurt his right shoulder in a club in Spain back in February. Since then he's had to give up the guitar and only sing, then give that up for four months while he had two operations to fix his shoulder. He'll be back with the band hopefully from 20th September onwards, initially only singing (Nigel Bennett, an old Vibrators guitarist is currently playing guitar). Knox probably back on guitar after Xmas.
2007 NEWS
Knox has been doing quite a bit of painting (when he finds the time), so quite a few new paintings should make it onto the site. They are generally smaller paintings as this is the only way it seems possible to produce them, especially when he's touring a lot.
2006 NEWS
Joey Ramone painting was on exhibition in Germany (17 Nov. - 21 Dec.)
KNOX's self portrait was part of an art show dedicated to John Peel at the NO MORE GREY GALLERY, 23 Redchurch Street, London EC2, (23 Nov. - 21 Dec.)
KNOX played a solo acoustic set at WASTED, plus doing an Urban Dogs set there with Charlie Harper, as well as doing a Vibrators' set (on the Arena stage, 2nd from top of bill). Knox had done the same Urban Dogs' set with Charlie at the London 12 Bar Club a few days earlier to check it out.
FALLEN ANGELS - the original Fallen Angels' album has been re-released on Fallout Records (FALLCD023). This is a really good album, and is Knox backed by the infamous Hanoi Rocks, and always gets a five star review in mags and fanzines!! Copies can be obtained either from The Vibrators' merch stall (if you see them play) or from Jungle Records (details here: www.jungle-records.co). Knox also has the original Fallen Angels' cover, a 48" x 48" oil painting on board for sale, details here.

2005 NEWS

KNOX had his JOEY RAMONE portrait, and a JOE STRUMMER print in an exhibtion put on by JOHN NIKOLAI called HUNG at CBGB'S GALLERY, New York.
This exhibition was a continuation of two previous exhibitions, HANGED and HUNG, which were in Cambridge MASS. earlier in the year, and were mainly work produced by punk rock / new wave musicians.
Knox's painting of SID VICIOUS, which was going to be exhibited, was unfortunately damaged prior to hanging and wasn't shown. (The painting has subsequently been repaired and returned to its owner John Nikolai.)

Knox played solo at Fithy McNasty's on Fri. 19 August 2005.

Knox celebrated his 60th BIRTHDAY.
Upstairs at: Liberties Bar, 100 Camden High Street, on Sat. 3rd September 2005. Thanks to all the people who made the effort to come along, and thanks for all the presents!

As mentioned above Knox had paintings and prints in two US art shows:
"HUNG" - 4 July - 24 September 2005, Club Passin, 47 Palmer Street, Cambridge, MA.
"HANGED" - opened 19 July (for 2 weeks?) 2005, Zeitgeist Gallery, Cambridge, MA.
Knox shared these exhibitions with Arturo Vega (Ramone's artistic director), Jayne County, Dee Dee Ramone, etc.

Knox had six paintings exhibited as part of a group show for the Alberti Gallery at Gallery 27, 27 Cork Street, London W1S 3NG, 21-26 February, 2005.

Knox performed on Sunday 18th July 2004 on the acoustic stage in Morecambe at the WASTED FESTIVAL.
He also had some recent paintings on display there, and these included: Gaye Advert (since sold), Johnny Rotten (since sold), Sid Vicious (since sold), Joey Ramone (now owned by Joey's mother), and Captain and Dave from the Damned (since sold). All these are on the NEW PAINTINGS page, or the PAINTINGS SOLD page.

2004 NEWS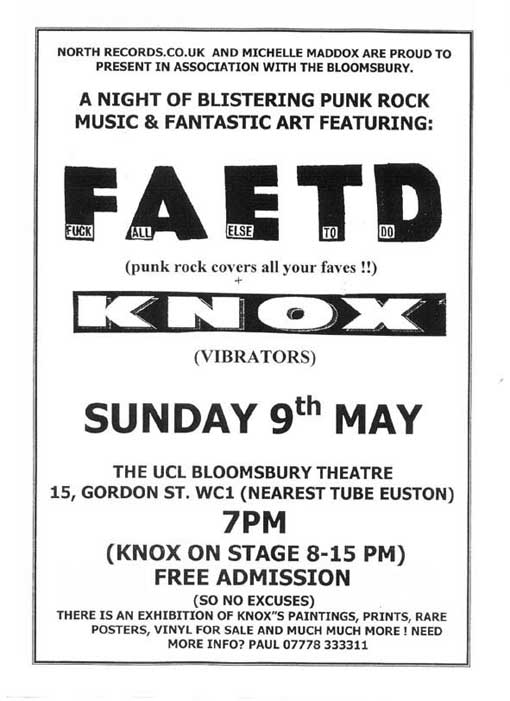 Art exhibition: Mon. 15 March - Sunday 9 May, 2004.
Knox had his largest exhibition of paintings to date at the Bloomsbury Theatre, Gordon Street, London WC1, for the whole of March and April, and into May. Knox exhibited a lot of paintings, new punk ones plus prints and posters, as well as local scenes, portraits, etc. You were crazy if you missed it!!
Knox also played here solo, plus his friends' brilliant band FAETD (Fuck All Else To Do) on the party night 9th May.

Exhibition catalogue:

1. Joe Strummer (The Clash). Print on canvas. Hand numbered. Signed. £149
2. Roxy 2 (work in progress). £400
3. Joe Strummer (The Clash). Limited edition signed print. £25. (Unframed £15). Available from the box office now!
4. The Vibrators 1st LP. Limited Edition. Print numbered signed. £25 (Unframed £15) available from box office today!!
5. Leatherface. Oil on canvas. £300
6. Vibrators 1st LP. Oil on canvas. £225
7, Her Majesty The Queen. Oil on board. £225
8. Joey Ramone. Oil on canvas. £180
9. Vibrators 1st German tour poster (very rare). £150
10. Gaye Advert. Oil on canvas. £150
11. The Vibrators very rare early gig poster. Circa 1977. £85
12. Television. Oil on board. £80
13. The Vibrators Judy Says unused original artwork. Pencil and feltip pen. Unique! £250.(photo copy on wall - please ask for original)
14. Apple. Oil on board. £80
15. Oranges. Oil on board. £80
16. Coffee. Oil on board. £80
17. Mum's back garden. Oil on board. £150
18. Cat and a fiddle. Oil on board. £120
19. Horses. Oil on canvas. £180
20. View from Primrose hill. Acrylic on board. £100
21. Mum's back garden (small). Oil on canvas. £100
22. Paintbrushes. Oil on board. £150
23. Still life. Oil on canvas. £180
24. Flowers (artificial). Oil on canvas. £180
25. Indoor Plant. Oil on board. £200
26. Portrait of a girl. Oil on canvas. £300
27. Hannah (study). Oil on board. £125
28. Hannah (portrait). Oil on canvas. Not for sale.
29. Virginia and John. Oil on canvas. Not for sale.
30. Self portrait - oil on board - £200
31. Self portrait - acrylic on paper -£?
32. Self portrait - mixed media on canvas - £?
33. Self portrait aged 14(?). Not for sale. 34. Post nuclear holocaust self portrait - oil on canvas -£?
35. Man with cow. Oil on canvas. £400
36. Amhurst Rd, Hackney. Oil on board. £250
37. Regents Park winter. Oil on board. £150
38. Regents Park autumn. Oil on board. £150
39. Camden Town tube. Oil on canvas. £400




Invite for Poulton gig and exhibition, 3 Dec. 2003.

Past exhibition / gig: Knox had an exhibition of punk paintings (including paintings of Joe Strummer, Joey Ramone, Johnny Rotten, and The Vibrators), prints of Joe Strummer and the Pure Mania cover on the invite (see above) are now available, details of where to obtain them here, old Vibrators' posters, and his home-made guitar, on which he wrote "Baby Baby", which was sold. The exhibition was in the Royal Oak in Poulton, near Blackpool, on 3 Dec. 2003. He also played solo there. He thought it was very successful and thanks to all involved, and all who came along! (Check out the photos below.)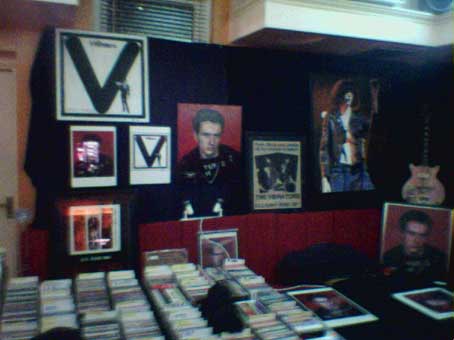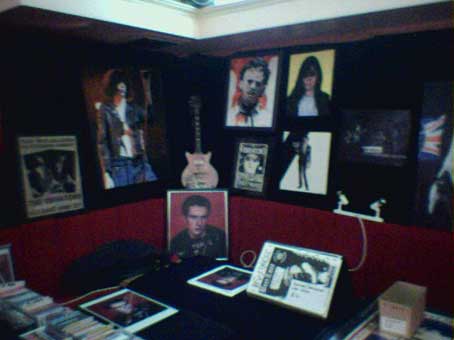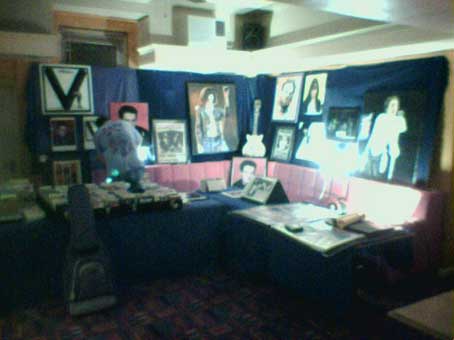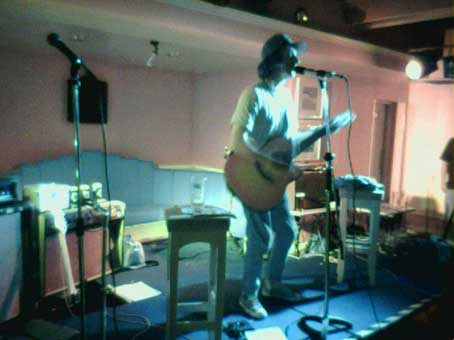 The guitar Knox wrote "Baby Baby" on,
which was sold at the show.
Solo gigs: Knox now does solo gigs, he started off playing a few songs in singer/songwriter clubs, then supported Wreckless Eric in St Albans, and TV Smith at the 12 Bar Club, London, as well as playing in Dego's now defunct (nothing to do with me! - Knox) punk clothes shop in Edinburgh, and opening up at the Verge, Kentish Town on 27th December.
He played at the Enterprise in Kentish Town, and recently at the WASTED FESTIVAL in Morecambe on the Acoustic Stage.
For future gigs check the gigs' page.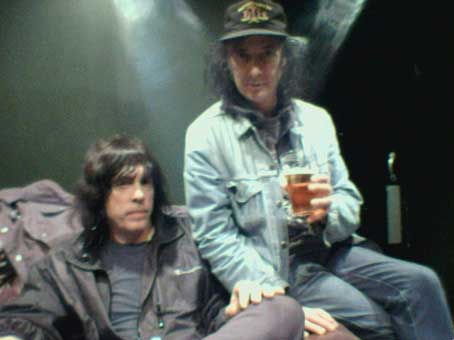 Knox with Marky Ramone, Camden Underworld, London, 8 April 2004
(photo: Robbie Tart?)
DESPAIR ALBUM: Knox's band 1972-4. He has enough material from this band to make an album, and is currently working on collating it, for eventual release on a new label. It will have early versions of "Whips & Furs", "Sweet Sweet Heart", "She's Bringing You Down", "I Can See It In Your Eyes", "Sailors On The Sea", "Andy Warhol", "Country Girl", "Claws In My Brain", etc., all later done by The Vibrators and The Fallen Angels. This should dispel the idea that The Vibrators jumped on the punk bandwagon!! Other tracks should be "Losing My Reason", "Lady Easy Action", "Starship", etc. Which leads nicely on to below.

"Sweet Sweet Heart" (1974): Knox has "Sweet Sweet Heart" from his 1972-4 band DESPAIR on a compilation CD "GLITTERBEST" now out on the RPM label (cat. no. RPM 265). This song was on the first Vibrators' album, 1977. It's the first time any of this Despair material has been released.

Knox's Vibrators' songs demos: Knox thinks he may have over 100 demo tracks of his songs used by the Vibrators, going right back to his original electric piano version of "Automatic Lover", which was recorded on a cassette recorder. The others are four or eight track, or computer recorded versions of the songs. That's a hell of a lot of material!! He says that he'll release maybe a couple of albums of the best of it should there be enough interest.

"Plutonium Express": Knox's 1983 solo album "Plutonium Express" now on CD (plus extra tracks), is available at: www.punkrockshop.com, this is a pretty good album. Knox is also in the process of trying to sell this album to a record company. Any offers?

The Hurley-Carnochan Experience: This is Bill Hurley, singer with R & B band The Inmates, the best singer in Britain according to many people, including Robert Plant and Knox, with some of Ian "Knox" Carnochan's songs. Knox is currently having another go at selling this project, which has three or four finished tracks, three or four demo's, plus other material for (ideally) completing an album.

New solo album: Knox has recommenced work on a new solo album. He went into Adrian Wyatt's studio (co-writer of Vibrators' hit "Disco In Mosco") to do some work around this project in the last week in November 2003. One of the tracks he did was a 'summer reggae-style version of "Baby Baby".

Knox country album: Knox is still continuing work on a country album with the brilliant St. Albans based Trailer Trash Orchestra. Songs include "Juice On", "Baby Baby", etc. This is coming on very well, a bit slow but every one involved is quite busy, but hopefully will be finished by very latest mid year (2007). Knox really likes the way a lot of it sounds.
New! Knox and Tart EP : Knox is most of the way through making a shared EP with The Vibrators' previous bass player Robbie Tart. Robbie recently relocated to Portland, Oregan, USA, which meant that this project, previously an album, has now shrunk to an EP with no immediate release date, but hopefully might appear later on this year.